Rigging Slings
Donaghys have a range of Adjustable Lifting and Rigging Slings to suit your application.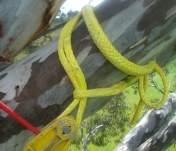 Whoopie Sling
Whoopie slings are ideal for lifting and rigging tasks including knotless rigging as the sling length adjusts around trees, poles or object without the need for knots. Knots create a weak point in the system.
Donaghys have three adjustable length options and three different fibre options to suit the strength requirements of the task.
Easily adjustable load rated lifting sling
Fixed eye on one end with adjustable eye at the other end
Bearing point lengths are adjustable
Fewer slings required due to flexibility of adjustable sling
Loopie Sling
Loopie slings are easily adjustable slings, ideal for use in rigging applications and knotless rigging. They are commonly used to attach to a block at the top of the tree without the need for knotting.
Easily adjustable
Strong and lightweight
Continuous loop configuration
Adjustable to fit and work in harmony with most rigging hardware
Differing strengths achieved by fibre type used