Vehicle Recovery Strops
Donaghys is serious about safety. Our new range of heavy duty tow strops for 4 x 4 and industrial vehicle recovery are designed to reduce the risk of injuries on your work site.

The Mongoose Vehicle Recovery Strop is strong, lightweight and flexible to reduce back injuries and hand injuries - no fish-hooking that you might get from a steel wire rope. Each strop includes a 200 mm soft eye in each end. We offer a complete service with the option of marine grade thimbles on request.
Mongoose Tow Strops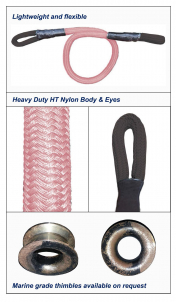 Mongoose Heavy Duty Tow Strop
Donaghys' Mongoose Heavy Duty Tow Strop is a 12 strand UHMwPE tow rope designed for industrial and light vehicle and 4x4 vehicle recovery.
The Mongoose vehicle recovery strops come fitted with a heavily protected soft eye splice in each end and feature a tight heavy duty HT Nylon cover to minimise ingress of dirt and assist cleaning.
Low elongation
Minimal re-coil and kinetic energy at break
Traceability (durable I/D tags)
Highly resistant to wear and flex fatigue
Strops to 500 Tonne
Certified to Tonnage rating
Soft Shackles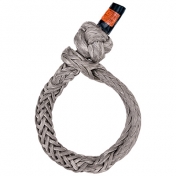 Soft UHMwPE Shackles
Donaghys' Soft Shackles are the perfect replacement for the traditional metal snap shackle and screw shackles. Soft Shackles are a versatile tool with many applications. The shackles are adjustable and made to connect strops or slings to vehicles, blocks or sheets on a boat.
Will not rust or corrode
Light and easy to handle
Soft so will not damage soft surfaces around it
Do not need tools to use it
Versatile
Will not shatter if broken as with metal shackles
Safe and easy to use