Factory Splicing & Terminations
Donaghys provide our Australian customers with a survey form with the requirements of any hauling job. Once you have set the parameters, we can provide you with all the available "Best Fit" options for the job at hand.
We can splice, add termination fittings and custom pack to your requirements. Donaghys are proud to offer an in-house splicing service available on all our Rope and Cordage products, delivered to you in cardboard cartons or reeled onto timber cable drums. Whether you require a 5 Tonne or 500 Tonne Hauling System, Donaghys Answer Your Haul!
Contact your local Donaghys Territory Manager for more information.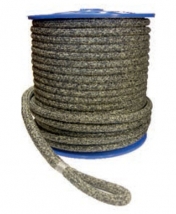 Machine Splicing
For the firmest and most compact splice available, Donaghys can splice products on the braiding machine for custom rope requirements.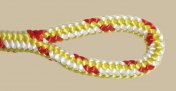 Soft Eye Splice Applications
Flexible soft eye which can be tailored for inner eye sizing
All rope constructions i.e. 3 strand, 8, 12, 16 and 24 plait can be spliced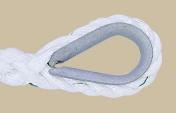 Standard Thimble Eye Splice
With open "V" available in galvanised steel, stainless steel or nylon
Strengthens and protects spliced eye against abrasion
Light applications e.g. anchor ropes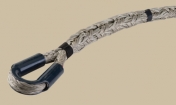 Tubed Steel Thimble
Hard eye fitting which holds and protects rope in tubing around thimble
Fittings available to suit varying rope diameters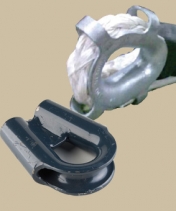 Captive Thimble Eye & Gusseted Tube Thimble
Captive thimble eye has welded "V"
Both suited to heavy duty applications
Captive thimble retains synthetic ropes within thimble under high loads and allows unrestricted use of heavier fittings e.g. shackles and rings
Gusset prevents the expansion or distortion of thimble under high loads, but reduces the size of connecting fitting that can be used

Endless Spliced Grommet
A flexible continuous rope join primarily for 12 strand ropes
Join to be positioned between bearing point and load
Realises 1.6 times strength of braid tensile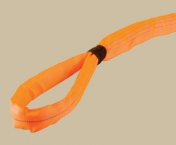 Tube Webbing & Chafe Guard Serving
Available for soft eye covering or both eyes and full body
Protects from grit which can cause internal or external damage through abrasion
Applying to eye gives added life by protecting at the bearing point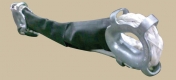 Extra Heavy Duty Towing Strop
Completed 80mm x 3m
Manufactured from Ocean12 Dyneema SK75® Urethane coated
Tensile strength 419.4 Tons
Fitted with a 96mm marine grade cast steel galvanised captive thimble each end
The body of the strop is covered with a rubber tube for added protection to reduce abrasion and prevent penetration of debris into the rope fibres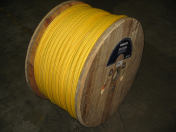 Wooden Reel or Timber Cable Drum
Winch line delivered to a customer in this form, allows for easy rewinding onto their winch drum
Also protects line against damage during transport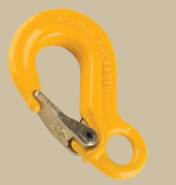 Eye Sling with Safety Latch
This fitting is usually used in conjunction with a steel captive thimble in dragline applications (mining and heavy industry)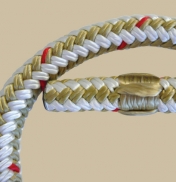 End Whipping
It is important that a whipping be put on any bare end of rope in order to prevent the unlaying and fraying of the strands.