Accessories
Donaghys stock a range of accessories that complement our rope and braid offering. These include rope cutters, measurers, splicing kits and protective coatings for your braid.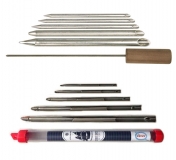 Splicing Kits
Donaghys Splicing Kit gives you all the tools you need to create that perfect splice. Complete with basic instructions to get you started.
Splicing kit for double braids
5 splicing fids to splice from 6mm to 24mm
Wire fid pusher
Complete with full splicing instructions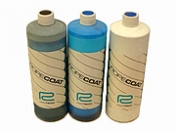 Protective Coatings
Even the best balanced and highly engineered braids can benefit by the addition of protective coatings. There are many benefits, the most significant being enhanced abrasion resistance. Coatings can include colouration for identification and can alter the texture of a slippery fibre to provide greater interaction between cover and core.
Bindacoat and Urethane options
The impregnation of Bindacoat adds the dimensions of handling, wear resistance and fibre binding to the slippery texture of Spectra®
Urethane impregnation enhances the abrasion resistance of a braid by forming a protective barrier to the braid fibres beneath
Colouration can be added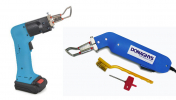 Hot Knife Cutters with carry case
Donaghys hand held Hot Knife Cutters come with a Donaghys' carry case. In addition to the standard electronic model, we also have a cordless portable model that allows the user to maximise time on the job. The carry case includes a product manual, small spanner and wire brush. The Cordless model includes Lithium-ion rechargable battery and charger.
For use on synthetic ropes, twines and braids
Cuts and seals low melting point synthetic fibres with ease
Blade reaches temperature within a few seconds
Not suitable on Natural, Vectran®, Kevlar® or PBO Zylon® fibres
Spare cutting blades available for long life use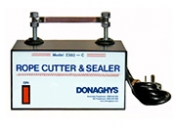 Hot Knife Cutter - Bench model
This Hot Knife Cutter is designed for use on bench tops. The bench top model is suitable for continuous operation with fixed blade (working range 100mm) for quick and clean cutting and sealing of fine cords, braids and ropes.
For use

on synthetic ropes, twines and braids

Cuts and seals low melting point synthetic fibres with ease
Not suitable on Natural, Vectran®, Kevlar® or PBO Zylon® fibres
240 volt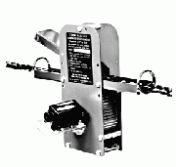 Rope Measurer
Donaghys Rope Measurer accommodates rope and cordage from 6mm to 20mm in diameter. The toothed Measuring Wheel and Stainless Steel Pressure Shoe assure uninterrupted NO SLIP contact with cordage.
Wall or bench mounted
Digital counter adds or subtracts
Resets to zero with one turn of knob
Conforms to Weights and Measures specifications