Winch Lines and Shackles
Donaghys Winchline is a high performance 12 strand braid, ideal for use in racing applications. Winchline is made from UHMwPE, one of the world's strongest fibres, with the ultimate strength to weight ratio for high performance applications including Strops, High load purchase systems, Halyards, Runners, Checkstays, Afterguys and as the name suggests, Winch lines.
Donaghys also offer a range of soft UHMwPE shackles for use as a replacement for traditional metal snap shackle and screw shackles.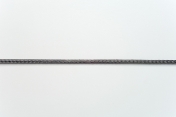 Winchline®
Donaghys Winchline® is 8 times lighter and 70% stronger than Steel Wire rope. Coated with Donaghys Armorcoat, this braid has high abrasion resistance and can be customised with covers and fittings to suit specific applications.
Low stretch
High UV resistance
Floats and does not absorb water
High internal and external abrasion resistance
Virtually no recoil in the unlikely event of failure
Non rotational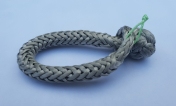 Marine Soft Shackles
Donaghys' Soft Shackles are the perfect replacement for the traditional metal snap shackle and screw shackles. Soft Shackles are a versatile tool with many applications. The shackles are adjustable and made to connect strops or slings to vehicles, blocks or sheets on a boat.
Will not rust or corrode
Light and easy to handle
Soft so will not damage soft surfaces around it
Do not need tools to use it
Versatile
Will not shatter if broken as with metal shackles
Safe and easy to use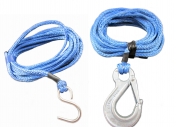 Winchline Trailer Pull Rope
Donaghys winch pull ropes for trailers are safer and lighter than wire ropes. They do not recoil and incorporate quality stainless steel fittings.
Soft to handle
No splinters
No recoil
8 times lighter than steel wire