Lowering Line
Donaghys has worked closely alongside Arborists and champion tree climbers to develop a range of arbor ropes you can hang your life on. Our standard lowering line is Yachtmaster XS.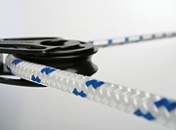 Yachtmaster XS Rigging/Lowering Line
Yachtmaster XS is a 100% polyester double braid. Designed for high strength with low stretch, Yachtmaster XS offers the ultimate in rigging or lowering lines.
Low stretch, easy to splice
Excellent handling and abrasion resistance
UV stable
Designed to run easily through rigging hardware
Available in 14mm and 16mm in 100m reels