Bricklayer and Builders Line
Donaghys Bricklayer and Builders trade lines are premium in quality to offer long lasting, efficient and convenient use at a value for money cost.
Our Nylon lines are really Nylon (not falsely labelled Polyester as per many copies in the market), and this is important as Nylon has superior strength and stretch, with excellent recovery from stretch for multiple use. Our spools are designed to last and are ideal for re-winding.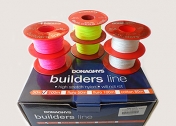 Plaited Nylon Bricklayers Lines
Donaghys Plaited Nylon Bricklayers Line, otherwise known as "Brickies line" is manufactured from shock absorbing multifilament nylon with 8 plait construction. This line is strong enough for taut line tensioning and will recover when re-wound for long lasting use.
High strength and recovery from stretch
High visibility colours
Strong and flexible re-wind friendly spools in 50m or 100m
Available in 885 and 1345 tex sizes
Available in White, Fluro Lime and Pink colour options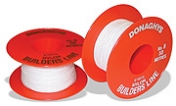 Twisted Cotton Chalk Line
Donaghys' Twisted Cotton Chalk line is manufactured with a soft twisted cotton construction. The fibres of this chalk line are designed for optimal chalk retention in use.
Economic twisted construction
Premium quality cotton to offer good strength and multiple use performance.
Strong and flexible re-wind friendly spools