Farm ropes
With over 140 years experience, Donaghys' offer a range of natural and synthetic ropes, ideal for use on the farm, industrial or general purpose applications. All our synthetic ropes are UV stabilised for Australasian conditions for at least 12 months in the field.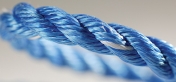 Polypropylene Rope
Donaghys' Polypropylene ropes are strong, highly abrasion resistant ropes. These ropes are easy to work and knot, are UV treated and have good weathering properties. Ideally suited to; marine, construction, mining, trucking, rural, commercial, fishing, petroleum and general industrial applications.
3 strand rope
High strength to weight ratio
Excellent handling and splicing properties
Versatile for use in most applications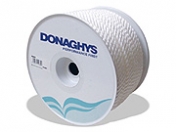 Silver PE Rope
Donaghys' Silver ropes are manufactured using a special Polyethylene (PE) extrusion process which gives the rope superior strength and a distinctive hairy appearance which enhances wear resistance and knotting performance. Silver rope is strong and versatile with excellent handling properties. Ideally suited to general and industrial applications, particularly in the marine industries where high resistance to abrasion and floating buoyancy are advantageous.
Tape based construction enhances strength, abrasion and handling properties
3 strand Polyethylene rope
Floats in water
Available in soft and medium lays for superior splicing efficiency