Pull Line Lashings
Donaghys provide all products required for the sub surface hauling process including lashings, whipping twine and heat sealed bags to cover whipping and tie off applications.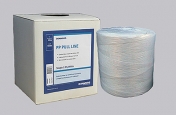 Conduit Ezi-Blow/Ezi Pull Lines
Donaghys Pull lines are made from virgin Polypropylene for high strength and durability. Used as Jetline/Mousing lines.
Premium & Heavy options to suit your application
Pull from centre spools in self dispensing cartons for tangle free deployment of lashing
2240 tex with 1830m spool per carton with approx breaking strength of 90kg
4500 tex with 950m spool per carton with approx breaking strength of 163k