Prusik Line
Donaghys has worked closely alongside certified Arborists and champion tree climbers to develop a range of arbour ropes you can hang your life on. The range has been certified to both Australian and International standards, developed off US benchmarks.


Feedback from the field :
I like the Donaghys Arborist ropes. They last longer, the outer sheath is harder wearing, it's designed tougher and has less milking
- Chris Walsh, Treetech

I trust my life with Donaghys ropes and the lives of my emergency response teams
- Shayne O'Dwyer, Instructor & Rescue Technician, Holmesglen Institute of TAFE

I have been using Spectra for a few years now as it has good diameter range, strength and splicability. With the new development of the Armor-Prus range I can see this as being a plus for the safety and piece of mind of climbers, as the prusik is a vital part of their system. Having a Technora blend outer and Kevlar blend inner will meet the criteria of the working arborist with durability and strength and also on the competition climber with rapid descents. And best of all is having a local company manufacturing this product.
- Chrissy Spence, 2005, 2007 ITCC World Champion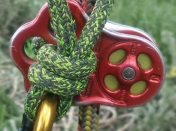 Armor-Prus (Performance line)
At long last, a prusik line that will last. Donaghys Armor-Prus features a unique cover blend of Technora and Polyester that acts like Armor over a core of light weight HMPE with Kevlar strands.
Blended Technora cover to prevent melting and glazing
Very low stretch
Technora is rated 234°C higher than standard polyester
Easy to splice
Meets ITCC climbing comp rules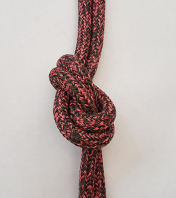 Armor Prus Poly
Donaghys Armor-Prus Poly is an economical alternative to the internationally recognised Armor Prus Performance prusik line. This prusik line features the same unique cover blend of Technora and Polyester that acts like Armor, but with a Polyester core.
Blended Technora cover to prevent melting and glazing
High grip for foot lock
Technora is rated 234°C higher than standard polyester
Easy to splice
Meets ITCC climbing comp rules