Military Ropes
Donaghys have a long history of working hand in hand with all branches of the Armed Services to provide responsive static lines and technical solutions required in the most challenging environments. Response Tactical is certified to Australian and International standards. Fine braids and Polyester rope are also available in traditional black or white colours.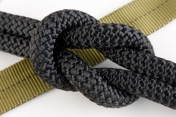 Response Tactical Rope
Response® Tactical static braids feature a kernmantle, parallel nylon core with plaited nylon protective jacket. Manufactured using a heat set pre shrink process to produce a safety line that delivers lower stretch with high strength. This rope is suitable for high speed rappelling.
Fully certified to AS4142.3, ANSI Z-133 and EN1981
Responsive and reliable
Supple for handling and stowage
Quick access and excellent knot holding
Features internal year of manufacture and standards marker yarns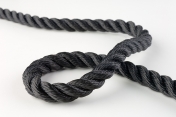 Polyester Rope
Donaghys' Polyester Rope is manufactured from Polyester fibre, the second strongest of conventional man-made fibres behind Nylon. This rope has good strength, easy handling, coiling and knotting along with excellent abrasion resistance. Polyester Rope is ideally suited to a wide range of general and industrial applications, including safety lines in the Height Safety sector.
3 strand and plaited ropes
Soft feel and easy handling
Excellent abrasion and UV resistance
Low creep under load
Available in easy splice soft or medium lay