UHMwPE Braids

When it comes to safety and reliability you can't take shortcuts. That's why Donaghys have developed the ultimate in high strength Fibre Rope Technology in Donaghys Winchline, the smart choice for preventing accidents before they happen.
With the imperative of safety in the workplace, OH&S officers have greeted the evolution of high strength soft fibre ropes with a greater strength to weight ratio than steel wire alternatives and almost zero recoil effect if a break should occur, with enthusiasm.
Donaghys Winchline and Superbraid have a UHMwPE (Ultra High Molecular weight Polyethylene) fibre core with the same characteristics as Dyneema ropes.
As a steel wire replacement, Donaghys' UHMwPE ropes are LIGHTER, SAFER & STRONGER THAN STEEL for many mining applications.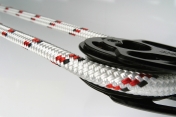 Superbraid
Donaghys Superbraid is a high performance yacht braid developed through exhaustive testing on super yachts, Jules Verne, The Race, Whitbread, Volvo Ocean Race, America's Cup, IOR, IMS, IMR and Olympic yachts. This development programme has seen subtle but significant changes to Superbraid as fibre technology and manufacturing techniques improve. Superbraid's versatility and advantages over traditional wire rope have seen an increase in its use across a broad range of applications.
Light weight UHMwPE core with HT Polyester cover provides high strength with minimal stretch
Treated with Donaghys Bindacoat on core to prevent core/cover slippage
Withstands shock loadings better than Aramids
Suitable for all running rigging applications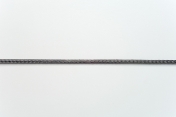 Winchline®
Donaghys Winchline® is 8 times lighter and 70% stronger than Steel Wire rope. Coated with Donaghys Armorcoat, this braid has high abrasion resistance and can be customised with covers and fittings to suit specific applications.
Low stretch
High UV resistance
Floats and does not absorb water
High internal and external abrasion resistance
Virtually no recoil in the unlikely event of failure
Non rotational