Specialty Applications
Donaghys have a long history of new developments and manufacturing techniques for specialty applications. We are distributors of specialty cordage such as cable hauling braids, rigging slings, custom strops and cargo restraint ropes.
If you have a specialty application, please contact your local Donaghys Territory Manager to discuss.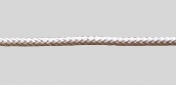 Custom Cable Hauling Braids
These braids are built to the consumers specifications of strength, Safe Work Load, abrasion resistance and purpose for use requirements and may be single braid with urethane core or braid on braid from any combination of fibres including; Dyneema the worlds strongest fibre, Spectra, Polyester, Nylon, Etc. We can make endless to specialist long lengths and supply with or without spliced eyes and protective covers. Please contact our staff to determine your best construction solution.
Cargo Restraint Rope
Cargo Restraint Rope is manufactured from Donaghys developed PP/PE crushed mono yarn blend in 3 strand construction with optimal lay for higher strength, excellent abrasion resistance and splicing. Donaghys Cargo Restraint Rope meets the AS/NZS 4345:2001 standard for Cargo Restraint Systems - Transport Fibre Rope.
White with external identification flecks
High strength to weight ratio
Shock load resistant
UV resistant with excellent weathering properties
Not affected by water